Tags: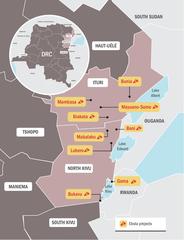 The Democratic Republic of Congo announced their tenth outbreak of Ebola in 40 years on 1 August 2018. The number of cases has exceeded 3 000, making it the country's largest-ever Ebola outbreak. It is the second-largest Ebola outbreak after one which hit West Africa from 2014-2016.
Key stats from then to date via Doctors WIthout Borders:
3423 total cases
3304 confirmed cases
2244 deaths
Contrast this with Covid-19, as the Corona virus is more formally known.
78 966 total cases
53 079 currently infected
23 418 recovered
2 469 deaths
Not to indulge in whataboutery, but the fatality rates for Covid-19 are insignificant compared to Ebola.