Tags: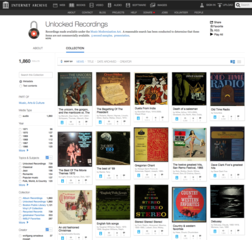 Fancy listening to Folk Music of Afghanistan from 1971? Or Afro-Cuban Jazz from 1966?
The Internet Archive has begun digitizing long out-of-print vinyl and making it freely available.
As I write these words, I am listening to "Profiles" by Gary McFarland (1966). It was post bop contemporary jazz at the time. Now, it's a half century old.
On the front page right now: "The unicorn, the gorgon, the manticore", Orson Welles "The begatting of the president", Bismillah Khan "Duets from India", "Death of a salesman", "The best movie themes 1970", "Debussy", and the "Twelve Greatest Hits San Remo Festival 1965".
God bless capitalism!