Tags: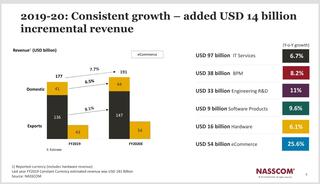 Quite a bit of buzz today around the fact that India has overtaken the UK as the world's fifth largest economy.
India's GDP has clocked $2,94 trillion. The UK sits at $2,83 trillion followed by France at $2,71 trillion.
There's been a lot of grumbling from India's opposition Congress party who've pointed out that manufacturing has declined in its overall contribution to GDP (in spite of Prime Minister Modi's much-hyped "Make in India" campaign).
They're technically correct, but it's not that manufacturing has slowed; it's that the services sector has  grown at a much faster rate, and most of that growth is in IT.
Nasscom, India's industry lobby group for the IT Business Process Management, says the sector earned $177 billion in FY 2019-20. It projects growth of 7.7% for the current fiscal to $191 billion.
Wow!