Tags: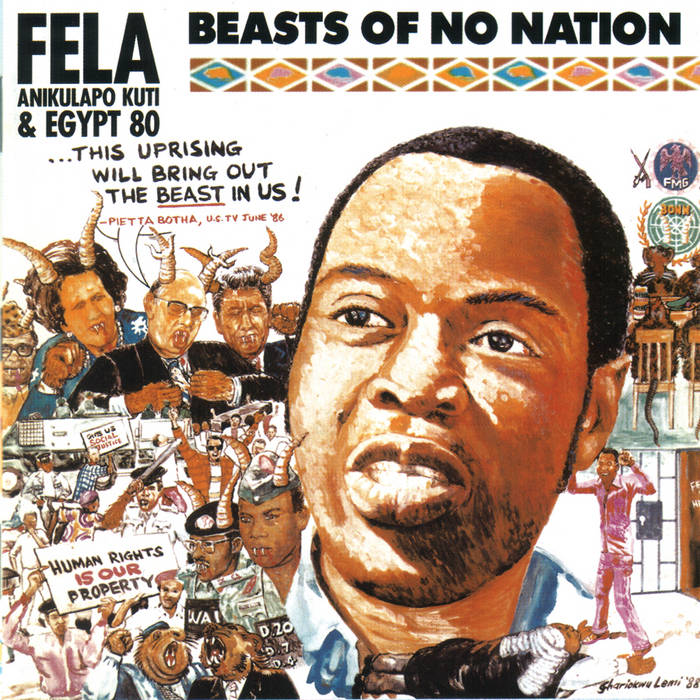 Beasts of No Nation album cover 1989
Driving my 12 year old daughter to school this morning, and the iPhone god of randomness popped by Shakara by Fela Kuti.
And I told 12 that Fela had been beaten to death by Nigerian dictator Sani Abacha, and she asked why, and I said that's what dictators do. But that I would check my recollection and get back to her.
Actually, I had misremembered. It was not Sani Abacha; it was Abacha's predecessor General Olusegun Obasanjo. Fela was not beaten to death; merely close to death.
(I'll correct these with 12 when I pick her up this afternoon because facts matter. But let's talk about the musician rather than his passing...)
Olufela Olusegun Oludotun Ransome-Kuti was born 15 October 1938 in Abeokuta, the modern-day capital of Nigeria's Ogun State.
I think of him as African Intellectual Royalty. His mother, Chief Funmilayo Ransome-Kuti, was an anti-colonial activist. His father, Reverend Israel Oludotun Ransome-Kuti, was an Anglican minister and school principal, who became first president of the Nigeria Union of Teachers.His brothers Beko Ransome-Kuti and Olikoye Ransome-Kuti were both medical doctors. He was first cousin to Wole Soyinka, the first African to win the Nobel Prize for Literature.
Fela was sent to London in 1958 to study medicine, but decided to study music instead at the Trinity College of Music, the trumpet being his preferred instrument. While there, he formed a band Koola Lobitos, playing a fusion of jazz and highlife. In 1960, Fela married his first wife, Remilekun (Remi) Taylor, with whom he would have three children (Femi, Yeni, and Sola). In 1963, Fela moved back to the newly independent Federation of Nigeria, re-formed Koola Lobitos and trained as a radio producer for the Nigerian Broadcasting Corporation. 
Four years later, Fela went to Ghana to experiment with new sounds, and that's when he coined the term "Afrobeat" for his combination of highlife, funk, jazz, salsa, calypso and traditional Nigerian Yoruba music. Two years later, Fela took the band to the United States where they spent 10 months in Los Angeles. While there, Fela discovered the Black Power movement which became a major influence over his music and political views.
Fela and his band returned to Nigeria where the group was renamed the Afrika '70 and lyrical themes changed from love to social issues. He formed "Kalakuta Republic", a commune, a recording studio, and a home for the many people connected to the band. (Jamaican poet Lindsay Barrett said the name was an homage to the Black Hole of Calcutta.)
It was at this time that he changed his name to Anikulapo ("He who carries death in his pouch"). He also began to sing in Pidgin English so that his music could be accessible by a larger audience than in his native Yoruba.
In 1977, Fela and the Afrika '70 released the album Zombie, the album's name a reference to the mindless brutality of the Nigerian military.
The album was a massive hit but riled the military regime under head of state Obasanjo (who had once been in the same primary school class as Fela).
One thousand soldiers were sent to attack the Kalakuta Republic commune. The women in the compound were raped. Fela was severely beaten. His mother was beaten and thrown from an upstairs window, killing her. Fela's studio, instruments, and master tapes were destroyed. The compound was burned to the ground.
Fela delivered his mother's coffin to the Dodan Barracks in Lagos, Obasanjo's residence. The subsequent official inquiry concluded that the compound had been destroyed by an unknown soldier.
Fela Kuti died of complications related to Aids in 1997. One million people attended his funeral.
Obasanjo was imprisoned and tortured by Sani Abacha's regime, became a born again Christian, was elected president of Nigeria from 1999-2007 and is today considered an elder statesman of Africa.
Shakara (Oloje) embodies the eclectic mishmash that Kuti brought to music combining jazz, funk, soul, blues, and traditional West African. It's 13 minutes long; perfect to move your body to while standing still in Joburg traffic.