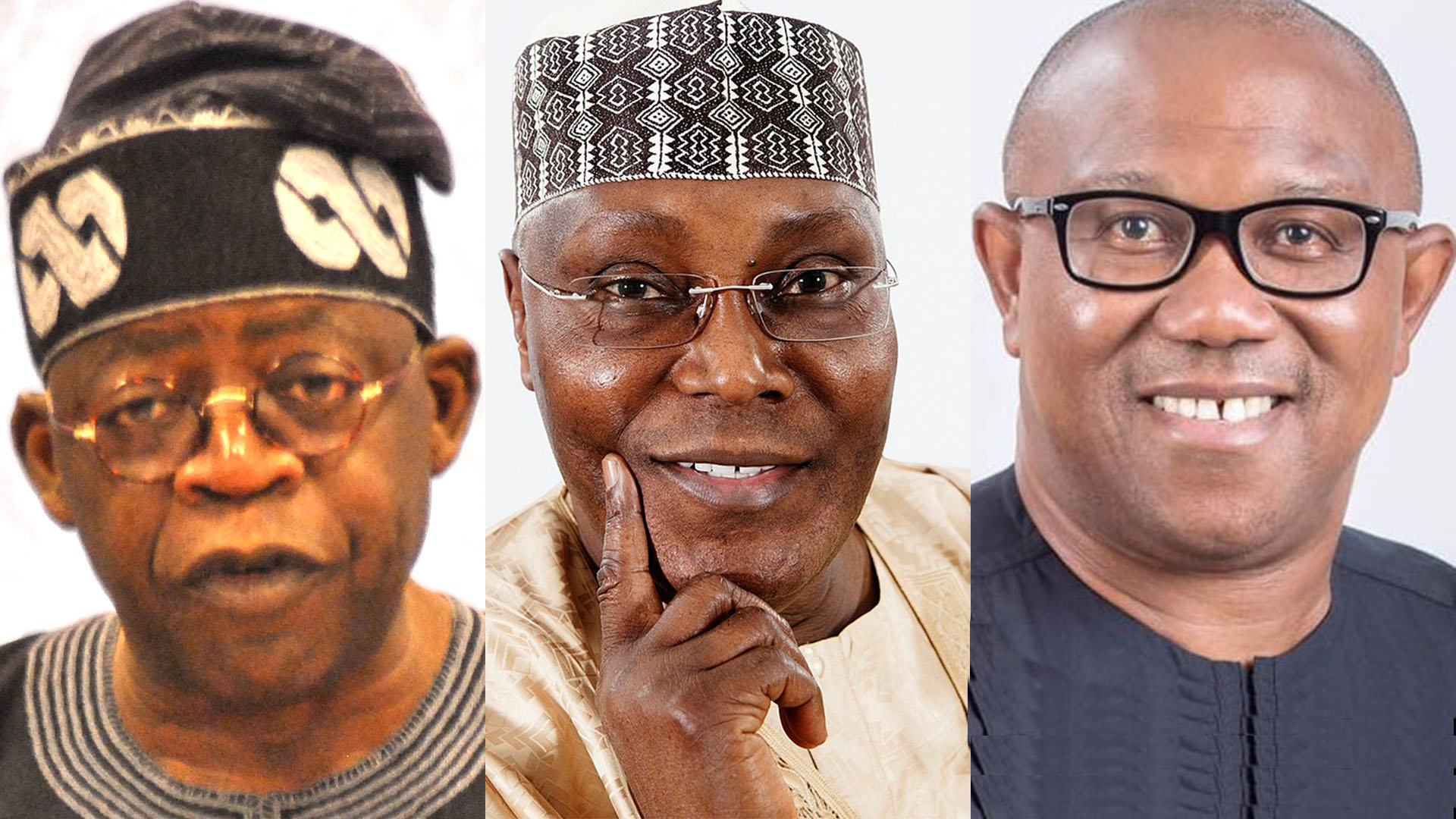 2023 Nigerian presidential candidates Bola Tinubu, Atiku Abubakar, Peter Obi / Composite from Wikimedia Commons
Nigeria goes to the polls this weekend. Here are ten things you need to know about the issues facing Africa's most populous country:
Free and fair elections: Nigeria has a population of 220 million people but only 93.5 million registered voters.
Security: Nigeria has numerous challenges including insurgency, terrorism, banditry, and kidnapping. I wrote about some of these issues last year.
Economy: Nigeria has high unemployment (37%), high inflation (21.82%), and high debt levels (US $172 billion).
Corruption: This is a persistent issue. More than US $400 billion in oil revenue has been stolen or misappropriated since the country became independent.
Infrastructure: Nigeria's current roads, bridges, and other structures are in disrepair. The country's financing shortfall for infrastructure will be an estimated US $3 trillion over the next 30 years
Education: Like much of Africa, many schools lack basic resources and teachers are underpaid and overworked. Even though primary education is officially free and compulsory, about 10.5 million of the country's children aged 5-14 years are not in school.
Healthcare: Many people lack access to basic healthcare services. As of 2022, the mortality rate of infants aged under one year old is about 56 deaths of children under the age of one year per 1 000 live births . For maternal mortality rates, in 2017, Nigeria recorded 917 deaths of mothers per 100 000 live births.
Poverty: As is the case with South Africa, Nigeria's population growth outpaces GDP growth, leaving less money per capita year-on-year. Oil exports generate 80% of export revenue but less than 1% of jobs. Only 17% of the workforce hold wage jobs.
Ethnic and religious tensions: Nigeria is a diverse country with many ethnic and religious groups, and tensions between these groups have led to violence and unrest in the past. Since the return to democratic governance, religion has influenced how state power is captured. This can be seen in the political statements of religious institutions, their choice of candidates and the inclination of candidates to turn to their religious communities for support.
Human rights: Nigeria has a history of human rights abuses, including arbitrary police detention and the suppression of free speech. A 2021 law includes provision for life imprisonment for transgender people.
There are 18 candidates running for president. Here's what you need to know about the top 3 candidates.
Bola Ahmed Adekunle Tinubu was born on March 29, 1952, in Lagos, Nigeria.
He is a politician and a member of the ruling All Progressives Congress (APC) party in Nigeria.
Tinubu was the Governor of Lagos State from 1999 to 2007 and is widely credited with transforming Lagos into a more modern and prosperous city.
He is a former senator and served as the Senate President Pro Tempore between 1999 and 2007.
Tinubu is known for his role in forming the APC, a merger of several opposition parties that defeated the ruling party in the 2015 presidential election.
He is also a successful businessman and entrepreneur, with interests in real estate, finance, and telecommunications.
Tinubu holds a Bachelor's degree in Accounting from Chicago State University and a Master's degree in Business Administration from Chicago's University of Illinois.
He has been a prominent figure in Nigerian politics since the 1990s and is widely regarded as one of the most influential politicians in the country. His campaign slogan: "it's my turn".
He is sometimes referred to as the "Jagaban," a Yoruba word meaning "leader of warriors" or "protector." He has been referred to as The Godfather of Lagos and has openly flaunted delivery of gold bullion to his home.
He is Yoruba which makes up 21% of population.
Atiku Abubakar was born on November 25, 1946, in Jada, a town in Adamawa State, Nigeria.
He is a businessman, politician, and a member of the opposition People's Democratic Party (PDP) in Nigeria.
Abubakar served as the Vice President of Nigeria from 1999 to 2007, under President Olusegun Obasanjo. He has also served as a senator and held various positions in government.
In the private sector, Abubakar has interests in several industries, including agriculture, real estate, and telecommunications. He served as the Chairman of the National Council of Privatization.
He holds a diploma in law from Ahmadu Bello University in Zaria, Nigeria, and a Bachelor's degree in Economics from the University of Nigeria, Nsukka.
Abubakar has been a prominent figure in Nigerian politics since the 1980s and has run for president several times, including in 1992, 2007, and 2019. His campaign slogan this year is "Recover Nigeria".
He is known for his advocacy of restructuring Nigeria's federal system, which he believes would improve governance and promote national unity.
Abubakar has also been vocal about the need for economic diversification in Nigeria and has proposed policies to promote investment in sectors such as agriculture and manufacturing. He wants to turn Nigeria into a crude oil refining hub.
He is Fulani which makes up 6% of the population. He is sometimes referred to as the "Turaki," a title that means "warrior" or "defender" in the Hausa language.
In 2007, he was implicated in an international bribery scandal.
Peter Gregory Obi was born on July 19, 1961, in Onitsha, Anambra State, Nigeria. He is igbo which makes up 18% of the population. He is the youngest of the top three. He is a Catholic.
He is a businessman and politician, and was a member of the opposition People's Democratic Party (PDP) before defecting to the Labour Party.
Obi served as the Governor of Anambra State from 2006 to 2014, during which he is credited with improving infrastructure, education, and healthcare in the state.
He has also served as the Chairman of the Securities and Exchange Commission (SEC) and as a member of the Presidential Economic Management Team.
Obi is a successful businessman with interests in several industries, including banking, real estate, and hospitality.
He holds a Bachelor's degree in Philosophy from the University of Nigeria, Nsukka, and a Master's degree in Business Administration from the University of Lagos.
Obi has been a vocal advocate of fiscal responsibility and has been critical of government spending and corruption in Nigeria.
He has proposed policies to improve tax collection and increase government revenue, while also investing in education, healthcare, and infrastructure. He wants to change the Nigerian economy from consumption to production.
Obi is known for his simple lifestyle and has been praised for his frugality and financial discipline.
He was named in the Pandora Papers as having broken laws in his business dealings but no criminal case was filed.