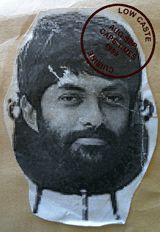 Mao Tse-Tung — him of the long march to freedom and later of the cultural revolution — was born in China's Hunan province. Hunan is famous for its extremely spicy food and tobacco, and the honourable chairman smoked heavily all his life… but I digress.
I'm not able to find Hunan cuisine anywhere on this continent which drives me to despair as Hunan food is as similar to Szechuan or Cantonese as mieliepap is to couscous.
Not so with Thai food. You see, the Thai are a homogenous people who all speak with subtitles and teach their kids to kickbox. And contrary to propaganda, they all loved One night in Bangkok as well as Yul Brynner's rendition of The King and I.
Just kidding. What is true, though, is that there is an innate consistency to Thai food around the world that one doesn't find in either Indian or Chinese or Vietnamese recipes. Order a Tom Kha Gai (a very nice chicken soup) in Frankfurt and it's likely to taste exactly the same as its counterpart in Cape Town. That's because the Thai were not carted off in large numbers to form settler communities in the First World and so their food did not metamorphose into variations using local ingredients over generations.
But let's cook our first Thai-style red curry. You'll need about half a kilogram of chicken (or lamb or beef or pork or squid) (remember to quickly blanch the squid in salted boiling water). Then you need 75-90g (about a quarter to a third of a cup) of red curry paste. You can make the paste yourself (by grinding together red chillies, garlic, salt, onion and assorted spices and condiments to taste ) or you can go out and buy some — 100g satchets are about R5. Taste of Japan (Paarden Eiland) has a good selection and reasonably priced.
You should also pick up some coconut cream (tins are easier — about R10 apiece, but powder works as nicely — about R8 apiece) from your local supermarket, some lime leaves (yes, you can pluck 'em off a tree), some unsweetened lime juice (or a squeeze of lime), some fish sauce (no, Mrs Jones — not tartar sauce) and a very small brinjal.
To one can (or one packet mixed with two cups of tepid water) of coconut cream, add the red curry paste and stir-fry over high heat until oil begins to separate.
Lower the heat, toss in the meat and lime leaves, simmer until half cooked. Toss in the peeled and diced brinjal and cook until brinjal dissolves. Add drops of fish sauce and lime juice to taste (Careful! Fish sauce is very strong). Serve over rice.