Wednesday, 20 January 2010
Family, Friends, Ladies and Gentlemen. Thank you for being with us here today.
Mr Sivathanam Pillay was born in 1923 in Malvern, Natal. His father, Mr Pathmanathan Veloo Pillay, had come to Durban as a passenger Indian from Kanyakumari (Cape Comorin), India. Veloo Pillay married Kuppama, daughter of Mr Sinappa Pillay, another passenger Indian who had come from Madras by way of Mauritius. Sinappa Pillay had established a trading store in West Street in those early years two centuries back.
Veloo Pillay and Kuppama, my grandparents on my father's side, had 11 children. Their names were Adilakshmi, Kumarsamy, Mahibalan, Sabapathi, Saravanan, Soundree, Alaganathan (known to most of us as Shunmugam), Pugavathie, Sivathanam, Pathmavathie, and my father, Sivasoobramania (known to most of you as Soobiah), As the second youngest of all of the brothers, Sivathanam was known throughout the family as Sivathanam Sithappa. It was only to me and my siblings, Ranjan, Thirumurugan, and Kanchana, that he was Periappa.
Two days ago, when Seelan took me aside and asked me whether I would speak at Periappa's funeral service, we both realised that part of our shared history was at an end. Periappa is the last grandson of 39 grandchildren of the dynasty founded by the late Sinappa Pillay. As far as I am aware, only one granddaughter now remains, Soundravallie (daughter of the late Joe Soobiah).
The children of Veloo Pillay were larger than life in many ways. Born to poverty in Malvern which at that time was considered to be a rural area, they were orphaned at a young age. Periappa was 10 when his father died and 19 when his mother died. The girls in the family were married off. The boys stood together. In the absence of television or other home entertainment, all of the brothers themselves became entertainers for each other displaying great talent for singing and histrionics. 
And it was during one of those sessions when they were singing to each other that Sivathanam Periappa as a youngster began one of his favourite songs "Nambinen". Halfway through the song, his voice cracked. The brothers, never missing a trick, gave him the nickname "Nambinen Half" – a name by which they referred to him among each other for the rest of their lives. 
Incidentally, all of them had nicknames. Kumarasamy, the eldest, was known as Langada Abdul (for reasons which have never been explained to me). Shunmugam was known as Vettukathi (bushknife). Pugavathee was known as Aduputhi (which is from the pipe used to stoke the fire), and my father as the baby of the family was Cream Cake. The brothers' interactions amongst each other were dramatic, passionate, and frequently confrontational; a popular refrain among them after their confrontations was "You don't come to my funeral and I won't come to your funeral." 
But make no mistake, any outsider who dared come between the brothers would find them banding together into a formidable force. At an early age, when Kumarasamy found himself beaten up by a gang of bullies, Shunmugam picked up a sjambok, rallied the brothers, went after the gang, and beat the living daylights out of them. When the brothers dressed to party, not a thread was out of place, their shoes could be used as mirrors, and they were impeccably groomed – my cousin Ganesa has a picture of the brothers posing together back in those days and a handsome bunch they were.
Sivathanam married the young Rukmini Kander, known to all of us as Salatchie, on 28 June 1953, He was 30 and she was by today's standards still a child at 15. But his heart was captured from that moment. Little over a year later, their son Dayalan was born to be followed over the next 9 years by Yugan, Seelan, and their only daughter Jayshree. What the rest of the family saw of Sivathanam and Salatchie over the years was a couple devoted to each other and not immersing themselves in larger family politics – happy together until the tragic loss of Dayalan in 1988.
So make no mistake, this is the passing of an era. The late Mr Sivathanam Pillay was fondly known among my cousins as the Last of the Mohicans. For myself and the other great grandchildren of Sinappa Pillay, that generation which provided us with the education and values that have allowed us to spread our wings and prosper, is no more.
Most of us, as Hindus, believe in the immortality of the soul. We believe that death is a transition for the physical body to be left behind while the soul journeys on and into the spiritual world for fresh adventures. We take comfort from hoping that he will now be free of pain and now making contact with loved ones that have gone before.
But this time would have come a lot earlier if not for the tender loving care Periappa was blessed with in his wife. Men in our family generally die early while women in our family tend to live forever. Periappa was the exception. He lived for years nursing his chronic lung infection which would long have killed other men. But Salatchie Periamma looked to her husband's needs with a devotion I have yet to see in another couple. She ensured that his medication was taken in time, that he was fed, and kept warm, and it was thanks to her that all of us were blessed to have him with us for so many years after his brothers and sisters had passed on. And believe me, his devotion to her was no less. At hospital last week, when he was groggy and having difficulty speaking, he asked me very pointedly "Where's my wife"? It was only after I called her on the phone and he heard her voice that he relaxed again.
Periappa is survived by his loving wife Salatchie, his children Yugan, Seelan, and Jayshree, and grandchildren Rushantha, Pregasin, Mona, Komalin, Kubendran, Sayuri, and Direshni. To all of you gathered here with me today, I will repeat to you what my uncle, the Last of the Mohicans, said to me when I held his hand at his bedside not long ago. "Kanna", he said to me, "make the most of your life while you can". 
They were wise words from a man who lived to a ripe old age surrounded by love. Let us not mourn his passing but instead celebrate his time with us, and pray that when our time comes, as it must, that we should be as lucky.
Vannakam.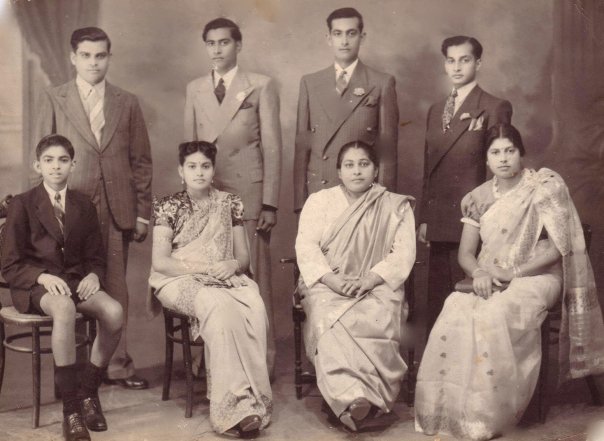 (Clockwise from top left: Kumarasamy, Pugavathie, Alaganathan, Sivathanam, Soundree, Adilakshmi, Pathmavathie, Sivasoobramania)