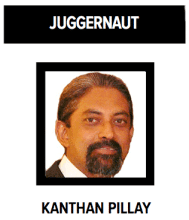 Wednesday, 9 October 2019
Around the time of my 19th birthday in September 1980, I found myself recently kicked out of the University of Durban-Westville in the aftermath of student protests and trying to work out what to do with the rest of the year; indeed, the rest of my life.
My mother had let slip at one point that the news editor at Post was a former pupil of hers. I asked her to take me along to meet him.
The offices on the 5th floor of the Daily News Building at 85 Field Street were filled with desks and typewriters. (Computers were still two years in the future.) A haze of cigarette smoke hung over the office. And sitting in the corner, at that stage still mostly clean-shaven, was a burly guy with a piercing gaze who quickly stubbed out his cigarette and pushed his ashtray away at the sight of my mother. "Ma'am," he said with a bit of a bow and flourish as he stood up to greet her; clearly at heart, still the schoolboy caught smoking by his teacher.
He then looked at me suspiciously. "What are you looking at?" he said.
"You remind me of Peter Ustinov," I replied.
It was a true statement. In hindsight, now that I think about it, he was relatively young – just turned 36. But, he had the commanding voice and inquisitorial air of the actor who gave life to Agatha Christie's character Hercule Poirot in Death on the Nile. The distinctive moustache completed the picture.
Clearly disarmed and chuffed at the same time, Farook Khan gave a broad smile and indicated that I was now worthy of sitting down. He told my mother that he had taken a group of youngsters under his wing to teach them the basics of journalism. He was happy to add me to the list, which at the time comprised Ismail Suder, Jameela Hoosen, and Rashida Dhooma.
The following morning, he gave me a notebook and a pen and asked me to pull up a chair. He picked up random newspapers from a pile on his desk and began dissecting articles for me.
Lesson 1: "Every story must have a Who, What, Where, When, Why, and How," he began.
Lesson 2: "You have to put all of that into the first paragraph. That way, if they don't read more, they still have the story."
Lesson 3: "You have to learn to write an inverted pyramid; the most important information at the top, the least important at the bottom. That way, they can cut from the bottom.
"Right, let's go…"
We headed two blocks down Field Street to Nufield Parkade where we got into his luminous green Chevrolet Rekord and he drove us to La Lucia Mall.
A crowd had gathered there to welcome film star Cameron Mitchell, at that time a celebrity in South Africa as a star of the television series "High Chaparral". "Take our your notebook," he said. "Take notes."
We headed back to the office thereafter where he asked me to write the story. I had never used a typewriter before, but I picked at the keyboard with two fingers and after a half hour had put together something. I handed it over hopefully.
"No one is going to read this," Farook said. "Remember that little boy that he hugged?"
I did indeed. I sat watching as Farook's fingers flew across the typewriter keyboard and poured out the story of how a little boy had his day made because "Uncle Buck" gave him a hug.
The story appeared on the front page two days later. I was reluctant to take any credit for it, but Farook was insistent, pointing out that I had gathered the facts and he had just rearranged them into something readable. I earned my first paycheque — R11.
I worked under Farook Khan for about a year from that day and every day was a learning experience.
He regaled us with tales of his adventures in the Grey Street Casbah and around the world. He had a well-thumbed contact book which was his constant companion and there seemed to be no end to the people he knew. Tina Turner was listed in his contact book, as was Muhammad Ali.
"Do you really know him?" I asked. Ali had recent come out of retirement at the time and had been defeated by Larry Holmes. Farook responded by picking up the phone, asked the switchboard to connect us to the US, and spoke to Ali.
"I have some youngsters who want to say hello," Farook said, passing the phone to Rashida and then to me.
Farook had a repertoire of wisdom, which he would frequently quote. "When legend becomes fact, you print the legend, not the fact," was one such saying. "As journalists, we should aim to afflict the comfortable and comfort the afflicted," was another.
Our journey together was cut short too soon. On holiday in Johannesburg, Farook suffered a mild heart attack. I caught a train up to Joburg to see him in hospital. He was in good spirits, but said he was being removed as News Editor because management believed the stress would trigger another heart attack.
Farook left Post to join the Daily News not long after. At the Daily News, he became their most prolific reporter writing with ease on every subject and many of those editors have since sung his praises.
For my part, inspired by Farook Khan, I went on to set up training programmes in every place where I subsequently worked.
The eNews Journalism Training Programme at ETV and YFM's Y Academy have produced award-winning journalists and media stars. All of my lectures to each new class began with the words, "I am standing here today because Farook Khan did the same for me."