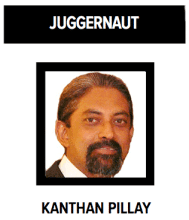 Wednesday, 4 September 2019
Last week, our National Treasury released a discussion document titled "Economic transformation, inclusive growth, and competitiveness: Towards an Economic Strategy for South Africa".
Government, it says, needs to urgently implement a series of reforms that can boost South Africa's growth in the short term, while also creating the conditions for higher long-term sustainable growth.
Specifically, it calls for immediate interventions to modernize Electricity, Telecommunications, Transport, and Water. More broadly, it speaks of:
Lowering barriers to entry and addressing distorted patterns of ownership through increased competition and small business growth
Prioritizing labour-intensive growth: agriculture and services
Implementing focused and flexible industrial and trade policy to promote competitiveness and facilitate long-run growth
Promoting export competitiveness and harnessing regional growth opportunities
I'm going to refer to this as Project Tito because it has the stamp of our Finance Minister all over its thinking; plus it's the sort of document that stands out because it is quite drastically different from much of what has emanated from our national leadership of late.
Let's look at some of the nuts and bolts, which got me excited.
Government should consider exemptions for small business to bargaining council agreements.
These agreements have caused massive job losses in the textile industry because small firms cannot afford the same pay scales as large players.
Encourage immigration from skilled workers with tertiary qualifications from accredited institutions.
We currently have a massive brain drain through emigration; while there is a wealth of intellectual capital sitting unemployed north of the Limpopo.
Metrorail should be handed to the metros as part of an integrated transport plan.
I've been beating this particular drum for years. Cities can then integrate public transport with urban planning.
Transnet should become a rail infrastructure provider, but private companies should have access to their network.
This will create opportunities for private freight operators as well as opening up opportunities for luxury tourist trains.
Substantial reforms in electricity generation and delivery.
Household generating solar should be allowed to sell excess into the grid. Companies generating their own power should be able to use Eskom's grid to deliver electricity to other sites.
Ending of supermarket monopolies.
Right now, one is unlikely to find both Checkers and Pick 'n Pay at the same shopping centres because players insist on keeping competitors out. Such exclusive leases should be banned, says Project Tito.
Structures for pricing of fuel needs to change.
Consider, for example, that Sasol produces fuel from coal locally, but such fuel is sold at the same price as that from imported crude. Project Tito wants the pricing to reflect lower production costs, which will mean a reduction in the price of fuel.
But before we get too euphoric about all this great stuff, let me digress for a bit. Driving back from Limpopo to Johannesburg over the weekend, I was listening to a recent interview with Raghuram Rajan who is former Chief Economist at the International Monetary Fund and former governor of the Reserve Bank of India. He had this to say:
"It was when the government promised you that they wouldn't steal your property, that it became possible for the market to become more competitive. … As the government could limit itself and promise that it wouldn't steal your property, then you had the possibility for individuals to become more competitive; you had this laissez faire philosophy come in – free the markets, let us do what we can, don't interrupt the process.

"Which country had greater economic strength? A country that had more dynamic markets. How do you get more dynamic markets? How do you get more productive efficiency in the markets? You have to convince them, in a sense, that what they make is their own — you're not going to seize it as a State."
Rajan's words resonated with me because they cut to the chase as to why we as a country were so successful during the Mbeki era. Government policy at the time allowed business to fly; then took the tax rewards of economic growth and poured that into poverty alleviation.
Then came the Zuma era with the imposition of regulatory policies designed to take money from those who had earned it and give it to those who had not. The scenario described by Rajan came to pass.
Think about it: why would anyone invest capital in a new business when they would need to give away a significant chunk of profits in the form of a Mining Charter or Black Economic Empowerment? Why build a new hospital if National Health Insurance will steal it? Far more profitable to leave the money passively invested and simply earn interest or dividends; preferably offshore.
Project Tito addresses some of this up front: "Businesses face a significant amount of uncertainty related to the timing and content of government policy changes, as well as the potential impact that these policies will have on firm profitability. … Delivering policy certainty in a few policy areas is vital to re-establish trust and create an enabling environment for a social consensus to emerge."
But this does not address the elephant in the room. Skilled immigration cannot be implemented if race-based quotas continue to exist in the workplace. Educational reform cannot happen if the best and brightest are excluded by race quotas.
All in all, I see Project Tito as the first sign of something intelligent to emerge from the Ramaphosa administration since Zuma was recalled. I want it to succeed. I remain sceptical.