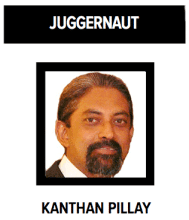 Wednesday, 18 December 2019
Outside Durban, south-east of Marianhill and north-west of Shallcross, there's a settlement called St Wendolins.
Back in the 80s, this predominantly Nguni community was threatened with forced removals under the Group Areas Act.
And so it was that I found myself driving up there from Durban on a Saturday afternoon in 1982 to cover a prayer meeting, when I passed a crowd standing in a circle in front of the women's hostel at the racecourse end of what was then called Grey Street.
Crowds in that part of town are not unusual even today, but this lot were gazing intently at the ground. That was extraordinary. I pushed my way through to see a man lying on his side in a pool of blood.
"Has anyone called an ambulance?" I asked as I began to feel his throat. There was a pulse. No one answered.
I turned him onto his back. The wound appeared to be on his chest. I ripped his shirt open and streams of blood began to erupt from several holes. It looked like multiple stab wounds.
"There's a call box in the cafe on Carlisle Street," I said to one likely looking specimen. "Call 10111. Tell them to send an ambulance." He looked about uncertainly to make sure I was referring to him and then vanished.
In the meanwhile, I was trying unsuccessfully to stem the flow of blood with a piece of the man's shirt. At that point, a voice said: "if you pinch the hole and hold it, the blood will clot and slow the flow."
I did so. It seemed to work. I went on to the next hole. And the next… And the ambulance arrived and paramedics took over.
"How did you know what to do?" I asked the person who had given me the advice.
"I'm a doctor," he replied.
He fled for his life soon after when I threatened to f*** him up for not having done anything himself, muttering something about not wanting to get involved.
It was days later during discussion with a legal-minded friend that I became aware of the complications of doctors treating patients without consent outside of their official duties.
Most countries where legal systems are based on English Common Law support "Good Samaritan" laws. This protects those of us who stop to render first aid, but those laws do not apply to medical professionals or emergency responders such as paramedics.
Those professionals are subject to a stringent framework of rules and procedures at the apex of which is statutory body, the Health Professions Council of South Africa.
But what happens when that body fails to carry out its responsibilities?
In 2012, 3-year-old Ethan Teubes died after a colon operation performed by a paediatric surgeon at Morningside Clinic in Johannesburg. The postmortem revealed the surgical site had "loose sutures, a 25mm wound just below the suture line and evidence of septic peritonitis locally and on abdominal organs".
In 2016, 19-month-old Alissa Strydom died after the same surgeon operated on her. The surgeon is reported to have said there were complications, including that he nicked a vein and lost a needle inside her.
In September this year, 12 year old Monique Moorcroft died after the same surgeon operated to remove a colostomy bag.
Then in October this year, the same surgeon performed a routine laparoscopic surgery on 10-year-old Zayyaan Sayed.
Zayyaan's lung collapsed shortly after the surgery. He was taken to the intensive care unit but died not long after.
The Sayeds have since laid criminal charges of culpable homicide against the surgeon and the anesthetist and warrants of arrest have been issued.
The laying of criminal charges is an extraordinary thing to have occurred. In a modern regulated medical environment, the established course of action would have been to report the physicians to the statutory body (the HPCSA) which would then act swiftly to suspend those professionals, pending thorough enquiries.
It turns out that the HPCSA has had multiple investigations pending against this surgeon, which have been running concurrently. It also turns out that Hawks and Special Investigations Unit are investigating HPCSA staff for fraudulently licensing physicians and accepting bribes.
In 2015, a task team commissioned by then health minister, Aaron Motsoaledi, found the HPCSA's chief executive, COO and head of legal services unfit for their jobs and recommended that "appropriate disciplinary and incapacity proceedings" against them be instituted along with possible suspensions from their jobs.
The task team noted the HPCSA legal department did not employ a single medical practitioner, or member with a medical background, in the legal department to assist with professional conduct enquiries.
Four years on this year, the South African Medical Association says the HPCSA remains an inefficient and ineffective organization; with continued lack of proper administration and inability to institute the recommendations made by the task team.
So if you want to understand why at least 4 children died unnecessarily, look to the top of the food chain.
The Sayeds are determined that no other child should die at the hands of this surgeon. I respect this.
I don't expect though that the criminal charges against the surgeon and anesthetist will be upheld in court, pending the professional investigation process. I expect the issuing of the warrant of arrest will be found to be unprocedural.
But I would dearly love to know what process would be needed to lay charges against the minister and the HPCSA leadership.