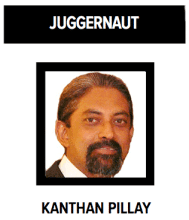 Wednesday, 2 October 2019
On Friday, 27 September 2019, a nationwide banking strike in South Africa did not take place. That same evening, The Irishman starring Robert de Niro and Al Pacino and directed by Martin Scorsese, had its world premiere at the 57th New York Film Festival in the US.
There is a reason why these two things are connected and it dates back to Valentine's Day, 1913, in a town called Brazil, Indiana in the US when Viola Hoffa gave birth to a son.
Viola and her husband John named the boy James Riddle Hoffa – Riddle being his mother's maiden name. When Jimmy (as the boy came to be called) was seven years old, John Hoffa died. Four years later, Viola moved the family to Detroit.
At age 14, Jimmy left school and took up manual labour jobs to support his family. One of these early jobs was with a grocery chain.
As was the case with most unskilled work at the time, the gig offered poor working conditions with little or no job security. The workers tried to organize themselves into a union. Jimmy Hoffa, although a teenager, soon rose to a leadership position.
In 1932, after clashing with an abusive shift foreman, Hoffa left the grocery chain. But his reputation as a leader of workers had grown and so he was invited to become a local organizer in Detroit with a union called the Teamsters.
The International Brotherhood of Teamsters had been founded in 1903. When Hoffa joined, they had around 75 000 members. As Hoffa rose through the leadership ranks, the union grew rapidly. Membership more than doubled to 170 000 in the next three years, and again, to 420 000 in the following three years. By 1951, membership topped 1 million.
But there was a cost associated with this expansion. The growth of the union's power saw a corresponding rise of corruption. Hoffa and other union leaders began to be associated with organized crime, which had a vested interest in the trucking business.
So in 1957, when Hoffa was elected president of the union, he was also under criminal investigation by a US Senate probe into "improper activities in labour or management".
Hoffa was convicted in Chattanooga, Tennessee in 1964, for attempted bribery of a grand jury investigator. He was sentenced to eight years in prison.
Hoffa was also convicted of fraud later that same year for illegally arranging several large pension fund loans to leading organized crime figures. For this, he received a five-year sentence to run consecutively to his bribery sentence.
Where did it go wrong? The young Jimmy Hoffa was a genuinely downtrodden employee who campaigned assiduously for worker rights, but turned into a corrupt cat's paw for organised crime.
Perhaps the answer is to be found in the way in which decision-making has usually taken place in trade unions around the world — by show of hands or voice vote. Ordinary members who did not support their leaders' proposed courses of action would be afraid to speak out, lest they be victimized.
Which brings us back home to the banking strike that did not take place.
The South African Society of Bank Officials (Sasbo), a Cosatu-affiliated union in the banking sector, had planned a nationwide strike for 27 September.
Sasbo general secretary Joe Kokela said the reason for the strike was that Standard Bank planned to retrench 6 000 employees, that Nedbank planned to retrench 3 000, and that Absa planned to shed 878 jobs.
Both Standard Bank and Nedbank denied this was the case. Nevertheless, Cosatu planned to go ahead the strike. Between 40 000 to 70 000 finance sector employees were expected to stay away.
The Labour Court shut down the strike. Judge Hilary Rabkin-Naicker declared Cosatu and Sasbo had failed to comply with a section of the Labour Relations Act.
That section requires any union planning any protest action to serve notice on the National Economic Development and Labour Council (Nedlac), stating the reasons for the protest action and the nature of the protest action.
Cosatu argued that it did not need to go through this process as it had served notice to Nedlac in 2017 outlining demands related to the economic downturn. In that notice, Cosatu wanted private companies to be prohibited from retrenching employees with a view to maintaining profits.
The Judge appears to think otherwise. Cosatu and Sasbo will now need to go through the process from scratch.
But there's a twist in the tale. On 1 January this year, the Labour Relations Amendment Act came into effect. This requires that before any union can call a strike or lockout, that union is required by law to conduct a secret ballot of members. Those provisions came into effect on September 9.
Union bosses are not happy with the new laws, threatening to challenge at the Constitutional Court, and at the International Labour Organisation. That is their right.
Meanwhile, under the new regulations, Sasbo will need to conduct a secret ballot of its members.
I find it unlikely that 70 000 financial sector workers will vote to forfeit a day's pay for political grandstanding. I also predict that the number of work days lost to strikes in general will fall drastically.

• "The Irishman" stars Robert de Niro as Frank Sheeran, a mob hitman and World War II vet who developed his skills during his service in Italy. Now an old man, Sheeran reflects on the events that defined his career as a hitman, particularly the role he played in the disappearance of Hoffa, his longtime friend, played by Al Pacino.
• Jimmy Hoffa disappeared on 30 July 1975 after telling his family he was going to meet two Mafia leaders at the Machus Red Fox, a suburban Detroit restaurant. His car was found in the parking lot of the restaurant. His body was never found.