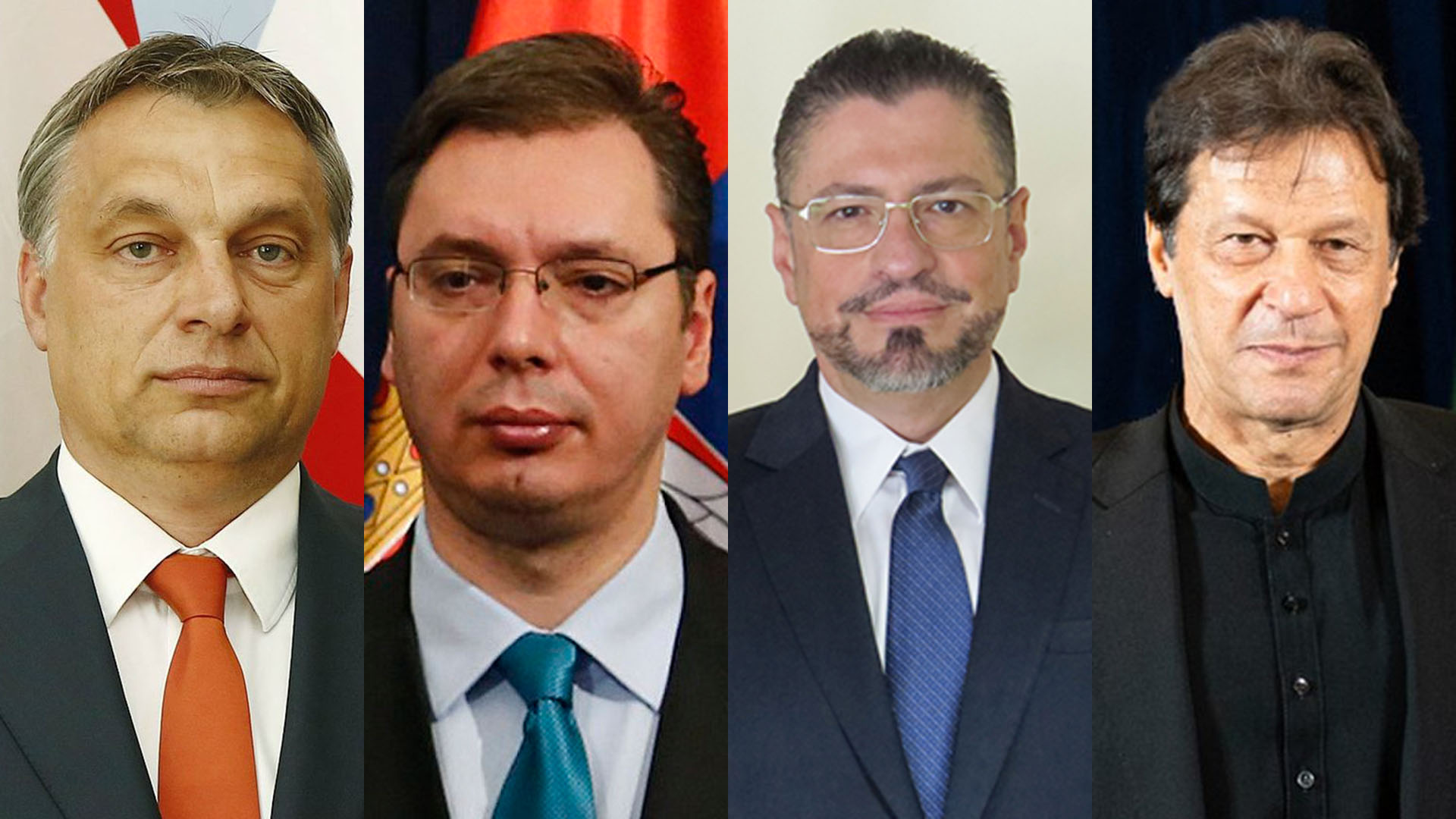 Hungary's Victor Orbán, Serbia's Aleksandar Vučić, Costa Rica's Rodrigo Chaves, Pakistan's Imran Khan 
A number of significant events over the past few days. Let's note some of them and look at what pulls these together.
1. In Hungary:
The party of nationalist prime minister Viktor Orbán has won a landslide victory in the country's general election in spite of western media predictions that the results would be "too close to call ."
It's an unprecedented 4th term for a prime minister in that country.
Orbán is a Soft Eurosceptic which is a term for those who don't object to being in the European Union but disagree with some EU policies.
For example, he has condemned Russia's invasion of Ukraine, supported EU sanctions against Russia, and has provided safe haven for 400 000 Ukraine refugees.
At the same time, he has a strongly anti-refugee stance, is openly hostile to transgender issues and gender reassignment surgery, has a close relationship with Russia, and is openly critical of Ukraine's president.
2. In Serbia:
President Aleksandar Vučić won a second term with a decisive 60% vote. His Serbian Progressive Party (SNS) appeared headed to a comfortable victory too in Sunday's national election, projected to win 43,5%. SNS rules in coalition with the Socialist Party of Serbia (SPS), who picked 11,6% of the vote. This gives the coalition a comfortable majority.
Once again, western media had predicted a swing away from the president, suggesting that he might lose control of the capital, Belgrade . This turned out to be far-fetched.
The Serbs are still deeply resentful of the 1999 NATO bombing of the territory, which, many countries claim, violated international law .
Vučić maintains strong ties with Russia. Serbia backed two UN resolutions against Russia's invasion of Ukraine, but refuses to impose sanctions against Moscow. The country relies on Russian gas.
3. In Costa Rica:
Former World Bank official Rodrigo Chaves has been elected president in a comfortable victory in yesterday's runoff election. In spite of a 30-year career at the World Bank, western media have already begun to describe him as a "right wing conservative".
Chaves defeated former president Osé María Figueres Olsen. Olsen compared Chaves to former US president Donald Trump and to current president of Brazil, Jair Bolsonaro.
Ahead of the election, the Wall Street journal reported "The World Bank failed to protect two young employees who filed sexual-harassment allegations against a veteran, high-ranking official who is now a presidential candidate in Costa Rica…"
Chaves rebutted the accusations: "… the Wall Street Journal publishes a note on the investigation that I faced, at the World Bank, for allegations of sexual harassment. This is a matter already judged that three instances — including a court of seven independent judges — not only rejected and dismissed as harassment but also qualified as a fair, complete and impartial investigation. With the exception of the statements of the complainants, the publication does not provide new elements; however, it reopens again an issue that has been painful for all those who we were involved in the process."
(Here's a link to the original judgement from the World Bank Tribunal where you may make up your own mind.)
Chaves plans to take Costa Rica into the Pacific Alliance , a free trade bloc currently comprising Chile, Colombia, Mexico, Peru. He is also in favour of gas exploration and legalization of marijuana.
4. In Pakistan:
A motion of no confidence against Prime Minister Imran Khan, which would in all likelihood have toppled his government, failed spectacularly at the finish line.
Khan's government holds power by a slender margin of six votes. On 8 March, Pakistan's opposition parties moved a no-confidence motion against Khan . All that would be required to topple the prime minister is 11 people from Khan's faction-ridden party to switch sides.
The opposition Pakistan People's Party said they had these votes, and Khan would fall.
At 12h49 on Sunday, 3 April, proceedings got underway in parliament. The opposition had already made it clear they had 174 votes in hand against 172 needed to remove Khan.
Khan was not seated in parliament, but his information minister, Fawad Chaudhry, accused the opposition of collusion with a foreign power, which is unconstitutional. Chaudry successfully filed motion to the deputy speaker of Parliament to throw out the vote .
Khan went on national television to announce he had ordered the National Assembly dissolved so new elections can be held. The request was submitted to President Arif-ur-Rehman Alvi, who acted on it.
The opposition parties are now challenging the dissolution of parliament in the country's Supreme Court. That decision is expected Wednesday.
What's the big deal, you may ask? Simply this: Imran Khan accused the Biden administration of trying to effect regime change; specifically, that Donald Lu, the top American official dealing with South Asia in the US State Department, was involved in the 'foreign conspiracy' to topple his government. (The Hindustan Times reports Lu has denied the allegation.)
However, journalist Arshad Sharif claims Biden chaired the US National Security Council meeting deciding to dislodge Khan. Sharif says Donald Lu conveyed the decision to Pakistan's ambassador with Pakistan's Defence Attache and Deputy Chief of Mission also in attendance.
Other reports say Lu wrote a letter to members of the Pakistan opposition saying relations between the United States and Pakistan would not improve as long as Imran Khan remained prime minister.
Khan has derided opposition attempts to call his actions undemocratic.
"Astonished by reaction of PDM to our calling for general elections. They have been crying hoarse about how our government has failed and lost support of the people, so why the fear of elections now? Democrats go to the people for support," he said.
"Isn't it better for PDM to accept elections rather than being part of a foreign conspiracy for regime change; and indulging in blatant purchasing of loyalties thereby destroying our nation's moral fibre?"
Assuming the Supreme Court does not support the opposition, elections will be held within 90 days. If that comes to pass, I predict a landslide victory for Imran Khan. (Unless he is assassinated before that; it's commonplace in Pakistan.)
5. What pulls them together
What we have here is four leaders who do not enjoy the support of the Biden administration consolidating their power in spite of varying degrees of US interference. I'm seeing a rejection of the globalist agenda and a swing to national interest.
I'll be watching France with great interest over the next period. Polls are showing support for nationalist leader Marine Le Pen at an all-time high . Given that most people are reluctant to voice support for views and politicians who are reviled by the media, my read is that her support is greater than the polls are showing. The French presidential election is on 24 April.
Let's see whether a pattern is emerging.