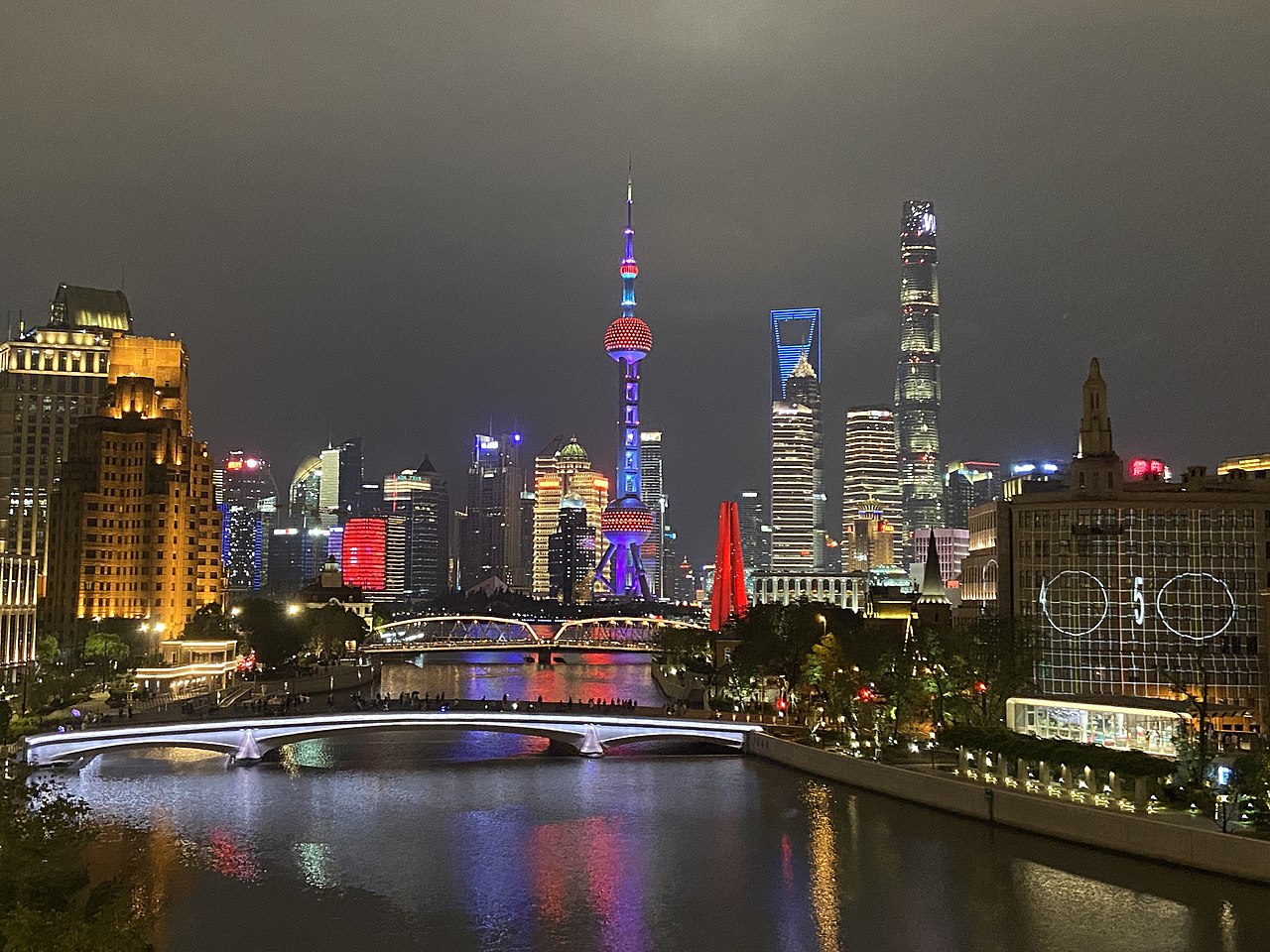 Shanghai, China - Skyline of Pudong, seen from Suzhou creek area, September 2021 / Steffen Wurzel, Wikimedia Commons
There are some interesting words in the English language. Take the case of the verb "shanghai". The word is derived from the name of the city on the east coast of China.
In the late 19th century, there was frequent shortages of sailors willing to crew ships to far off destinations, so ship owners would drug sailors and haul them on board. By the time they became woke, they were already en route to China and could not get off, hence the phrase "I was shanghaied".
Fast forward to today where Shanghai is no longer a fishing village that was forcibly opened to colonial exploitation in the wake of the First Opium War . China's biggest and most wealthy city is the most populous city proper in the world numbering more than 25 million people.
With a nominal GDP of US $1,39 trillion , If Shanghai were a country, its economy would be bigger than that of Mexico ($1,32t), Indonesia ($1,289t), Saudi Arabia ($1,040t), Netherlands ($1,013t).1
Shanghai is also currently in lockdown . Since late March, China has imposed travel restrictions and stay-home orders in economic hubs with the stated intention of curbing the spread of Covid-19, and Shanghai has been .
The extent of Covid controls has varied by region, but Shanghai restrictions have been particularly intense: Metal barriers have been erected in multiple districts to block off streets and apartment complexes. In buildings where cases have been found, the main entrances have been sealed off apart from small openings for health care workers.
This is all purportedly part of China's quest to attain "zero-COVID".
I say "purportedly" because, to my mind, the numbers don't make sense.
Consider that nearly all of the new cases are the Omicron variant which, yes, has higher transmissibility, but also has significantly lower severity and fatality than previous variants.
If we look at the recovery rate versus death rate throughout China currently, the numbers have not changed significantly since February.
So what has changed significantly since the beginning of the year?
Let me quote from James o'Neill's report in Near Eastern Outlook of 14 February 2022:
On fourth of February 2022 an important meeting took place in Beijing., China between the leader of China Xi Jin Ping and his Russian counterpart Vladimir Putin. Putin was in China at Xi's invitation to attend the opening of the Winter Olympics. The reason for his visit however, went far beyond celebrating the opening of a major sporting occasion. The two men signed a series of economic and political agreements that strengthened the already close ties between the two Asian neighbours.

One of the most important agreements signed that day was for a 30-year deal with which Russia agreed to supply China with gas, to be delivered via a new pipeline built for the occasion. In one of the most important signals in the signing of the deal, the two men agreed that China would pay for the gas in Euros. It signalled another break from the United States dollar whose importance in international trade has been steadily declining.

Following the meeting, the Chinese and Russian governments issued a joint statement that ran to more than 5000 words in length. The statement declared a "new era" under which the two men proposed a new international political model, one that was designed to leave behind the United States dominated unipolar world.

"The world is going through momentous changes and humanity is entering a new era of rapid development and profound transformation" the joint statement declared. In this "new era" China and Russia and their allies in the global South were determined to build a different system from that which the United States and its Western allies had dominated for so long.

Russia and China made it abundantly clear that they foresaw a new world order. The alternative they were proposing "condemned the practice of interference in the internal affairs of other states for geopolitical purposes." Instead, the two countries sought to establish "a just multipolar system of international relations." They called on NATO to "abandon its ideologized cold war approaches, and to respect the sovereignty, security and interest of other countries."
Two weeks later, Russia moved on Ukraine. NATO responded with sanctions. The impact of those sanctions on the economies of NATO countries has been devastating. Inflation is rampant throughout these countries and GDP growth projections show drops of up to 4 percentage points .
A further two weeks after Russia's forces moved into Ukraine, China locked down Shanghai.
Let me hit you with some bullet points:
More than 800 multinational corporations have regional headquarters in Shanghai . Among them, 121 are Fortune Global 500 companies, including Apple, Qualcomm, General Motors, Pepsico.
More than 70 000 foreign companies have offices in Shanghai. More than 24 000 of these are Japanese.
The shutdown of Tesla's operation in Shanghai because of the lockdown has set the company back with lost production of 40 000 units of electric vehicles. That's just one car company. Volkswagen and General Motors both have factories in Shanghai.
Ford has a global design center in Shanghai.
Let's talk about Apple: iPhone supplier Pegatron has its major factory in Shanghai and another in nearby Kunshan. Both have been shut by the lockdown.
TSMC , the world's most valuable manufacturer of semiconductors, has a major production facility in Shanghai. (TSMC makes 7-nanometre and 5-nanometre chips used by the Apple A14 and M1 SoC .)
Pharmaceutical giant AstraZeneca has a global R&D centre in Shanghai.
To top this off, Shanghai is the world's biggest container port moving more than 47 million shipping containers per year. Shutting down the city for more than a month means 4 million of those have potentially been impacted.
As can be seen, the simple act of shutting down Shanghai has delivered a body blow to global giants in the US sphere of influence at a time when they are already scrambling to reset their economies after their disastrous sanctions against Russia.
Now I know that correlation does not imply causation.
But it is a fact that Russia and China laid out the parameters for a new world order in February…
And it is a fact that their respective actions over the next weeks have brought the economies of the western powers to a grinding halt…
"When you eliminate the impossible, whatever remains, however improbable, must be true."
1. The rest of the countries are pissant with economies below the trillion dollar mark: In order, Switzerland, Taiwan, Poland, Turkey, Sweden, Belgium, Argentina, Norway, Thailand, Israel, Ireland, Nigeria…